GOTO Copenhagen 2018
Software Development Conference
Conference Nov. 19-21 / Workshops Nov. 22-23
GOTO Copenhagen 2018 brings you world-class speakers to present with three full conference days and two days of workshops. These GOTO Copenhagen speakers are leading industry experts who will both inspire and help you learn the practical know-how to advance your skills!
Furthermore we give you the opportunity to design your own conference: You can choose exactly which days you would like to attend - giving you a flexible ticket rather than a fixed package.
The Conference
GOTO Copenhagen is where you get inspiration, catch the new trends and get the opportunity to talk and network with people across all different disciplines of software development! GOTO Copenhagen is organized "for developers by developers".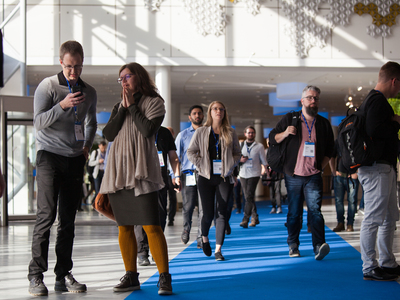 Tracks
Over the 5 days GOTO Copenhagen 2018 covers a wide array of trending and cutting-edge topics and technologies

Topics
Registration
Buy your ticket at our Early Bird Price of dkk 3,995 per day and save upto dkk 5,000!
Ticket and Workshop Prices
Sponsored by
GOTO Copenhagen is a high quality software development conference with three days of conference talks plus two days of workshops designed for developers, team leads, architects, and project managers. GOTO provide presentations and trainings on the most important topics presented by the best international speakers and practitioners in our community.
By partnering with GOTO Copenhagen 2018, you will generate HOT tech leads & build awareness in the tech community!
Email us and we can discuss how you can get involved!!
GOTO Copenhagen Videos
We know... we can hardly wait either, but in the meantime, you can watch videos of sessions from GOTO Copenhagen 2017. Many more are available on our YouTube Channel.
Conference Venue & Hotel
GOTO Copenhagen takes place in Bella Center, an ultra-modern event space featuring Scandinavian design throughout including open space with lots of indoor greenery. Bella Center Copenhagen is also one of the most sustainable venues in the world. They practice waste sorting in 16 categories, have an 850 kW wind turbine on-site for energy, as well as a living roof that is home to one million bees!
If you need a hotel during your stay in Copenhagen you can choose to stay right next to the Bella Center in hotel AC Bella Sky or in many of the other hotels in Copenhagen close to Bella Center. Book through one of these links and receive discounted conference rates.
Book hotel here:
AC Bella Sky
Other hotel close by (TBD)