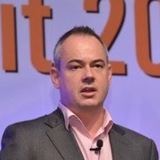 Sales Engineering at Corelight
With over 20 years of Industry experience, Damien has done the hard yards and was pretty well-known in the Irish Marketplace and - over 15 years - built the mates-n-colleagues network after a migration to sunny Australia in 2002. In July 2017, Damien relocated back to EMEA to broaden international experience and to be closer to family.
Damien joined Corelight in April 2018 as part of its expansion into EMEA. He previously worked at Riverbed Technology from November 2005 - March 2018, started as the 2nd member of the Riverbed Australia/New Zealand team and helped to grow it from the ground up to a team of over 60 people in 2017/2018.
Damien has a B.Sc. (Hons.) in Computer Science/Mathematics – laugh a minute :) – along with various other industry accreditations spanning back to '92 including the usual suspects: Microsoft MCSE, Citrix CCIA/CCEA, Novell CNE, Cisco CCNA, CheckPoint CCSE etc. He has strong focus on technical team leadership, architectural design & pre-sales with (hopefully!) good client-facing, presentation and writing skills.
He also does parties; please enquire for rates.
Talks